Layers Feed
PICK 'n' MIX any 5 bags and get

5 bag discount on all

PICK 'n' MIX any 10 bags and get

10 bag discount on all

PICK 'n' MIX any 20 bags and get

20 bag discount on all

Buy any 3 x 50 bag pallets and get

3 pallet discount on all

Buy any 4 x 50 bag pallets and get

4 pallet discount on all
Farmgate Layers Pellets
20kg Bags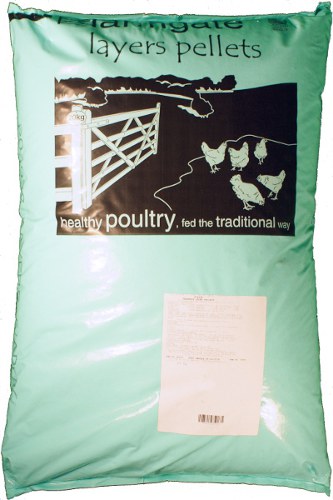 1-4 bags

£9.25

per bag
5+ bags

£8.30

per bag
10+ bags

£7.70

per bag
20+ bags

£7.30

per bag
50 bag pallets

£6.88

per bag
£344 per ton.
3 X 50 bag pallets



£6.78

per bag
£339 per ton.
4 X 50 bag pallets



£6.74

per bag
£337 per ton
Farmgate Layers Mash
20kg Bags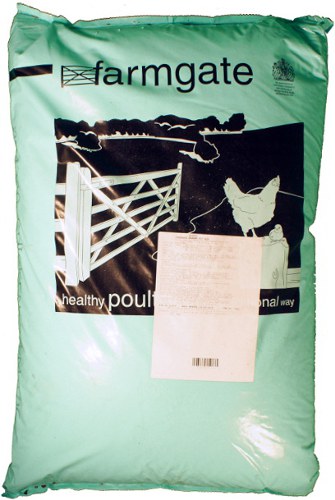 1-4 bags

£9.25

per bag
5+ bags

£8.30

per bag
10+ bags

£7.70

per bag
20+ bags

£7.30

per bag
50 bag pallets

£6.88

per bag
£344 per ton.
3 X 50 bag pallets



£6.74

per bag
£337 per ton.
4 X 50 bag pallets



£6.70

per bag
£335 per ton
All pallets contain 50 X 20Kg bags all the same type - No mixed pallets
Delivery is Available to Mainland/bridged England and Wales. Unfortunately we can no longer take orders For Scotland as the Haulige is no longer available.
See Delivery Information
Delivery 1 Pallet

£15

per pallet
Delivery 2 Pallets

£10

per pallet
Delivery 3 or 4 Pallets

£5

per pallet
The two Farmgate Layers feeds have an excellent pedigree within the BOCM range. Both Layers Pellets and Layers Mash contain optimum levels of calcium, phosphorus and Vitamin D3 for bone strength, good shell quality, rich yellow yolk colour, high egg numbers and excellent egg size. Feed from up to four weeks before onset of lay, throughout the laying period until depletion. Mash or pellets?
Rearer Feeds
Farmgate Chick Crumbs ACS
20kg Bags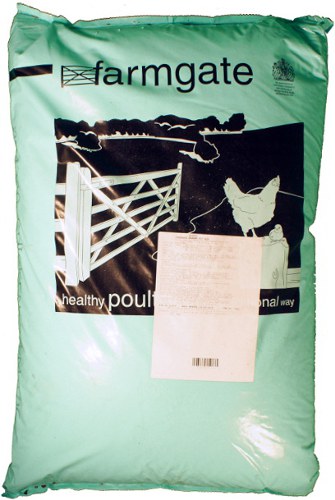 1-4 bags

£10.00

per bag
5+ bags

£9.60

per bag
10+ bags

£8.80

per bag
20+ bags

£8.50

per bag
50+ bags

£8.02 ORDER 1 Week

per bag
25/50 bag pallets delivered

£8.22

per bag
£411 per ton including delivery.
A Specially formulated starter crumb containing essential vitamins and trace elements. First choice for feeding from day old up to six weeks for laying pullets and up to four weeks for table poultry.
Farmgate Poultry Rearer Pellets ACS
20kg Bag

s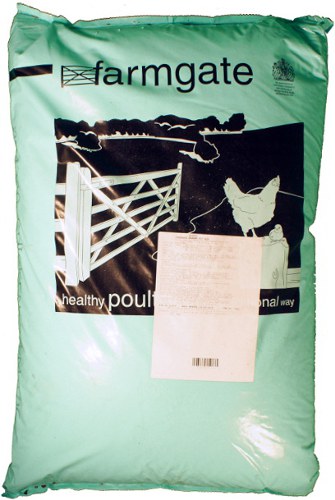 1-4 bags

£9.42

per bag
5+ bags

£8.77

per bag
10+ bags

£8.32

per bag
20+ bags

£7.92

per bag
50 bag pallet delivered

£7.68 Please order.

per bag
£384 per ton including delivery.
50 bag pallet collected

£7.38 Please order.

per bag
£369 per ton including delivery.
A balanced rearing pellet containing essential amino acids and minerals necessary for strong, healthy bones and good feather quality. Suitable to follow chick crumbs through to point of lay for laying birds, or until finisher is introduced for table poultry.
ACS - Anti-CoccidioStat
Coccidiosis is a parasite which commonly affects growing chickens. A preventative dose of anti-coccidiostat has been added to the chick starter and rearer pellets. Feeds containing anti-coccidiostat should not be given to laying poultry.
Farmgate Mixed Poultry Corn
10kg Bags:

£5.40

per bag
20kg Bags:
1-4

£9.55

per bag
5+ bags

£9.00

per bag
10+ bags

£8.20

per bag
20+ bags

£7.60

per bag

UNBEATABLE PRICE

50 bag pallet

£7.14

per bag
£357 per ton
+ £15 delivery 1 ton
+ £10 per pallet delivery any 2 tons
+ £5 per pallet delivery any 3 tons
PICK 'n' MIX any 5 bags and get 5 bag discount on all
PICK 'n' MIX any 10 bags and get 10 bag discount on all
PICK 'n' MIX any 20 bags and get 20 bag discount on all
Buy any 3 x 50 bag pallets and get 3 pallet discount on all
Buy any 4 x 50 bag pallets and get 4 pallet discount on all
Suitable for feeding to all classes of mature poultry as a supplement to a balanced compound diet In order to satisfy appetite during periods of increased energy requirement, and as an aid to promote the expression of natural foraging behaviour.
Flint Hen Grit

£3.90 per 3½kg tub

£8.80 per 25kg bag
JonDo Flint Grit is a very hard insoluble grit of great benefit to all poultry. In the Gizzard it acts as the birds teeth and performs the grinding action necessary to make the food digestible.

Oyster Shell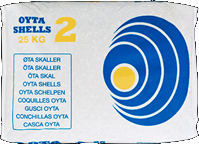 Oyster shell by Oyta is an excellent source of calcium, a 100% natural product from organically formed calcium carbonate. An excellent supplement for providing the high demand for calcium in egg laying chickens improving shell quality and general health.
Size: 4-7mm
Farmgate Finisher Pellets - 20kg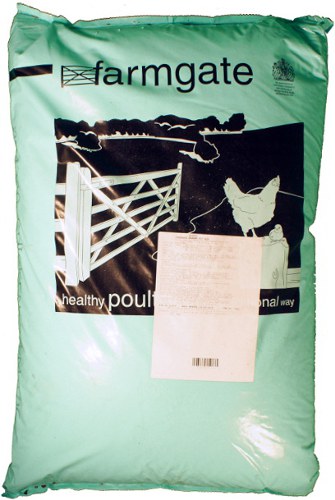 Available 1 week after order.
Please enquire for full Pallet.
| | |
| --- | --- |
| 1-9 bags | please enquire |
| 10+ | please enquire |
A plain finisher withdrawal ration suitable for feeding all types of poultry. The ration is designed to give a high quality carcase finish. There is no ACS in this ration and so is suitable for feeding up until slaughter.
Farmgate Breeder Pellets - 20kg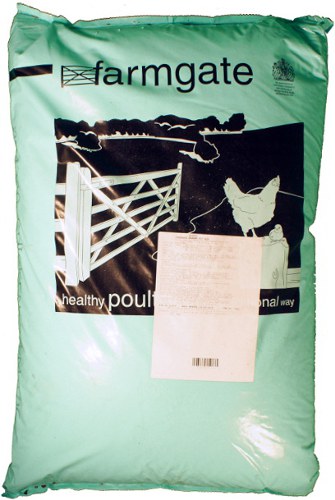 Available 1 week after order Minimum 10 bags.
| | |
| --- | --- |
| 10 bags | £8.16 per bag |
| 20 bags | £7.66 per bag |
| 50 BAG PALLET | £7.46 per bag |

£368 per ton
+ £15 delivery 1 ton
+ £10 per pallet delivery any 2 tons
+ £5 per pallet delivery any 3 tons
Highly palatable breeder pellet containing selected ingredients to offer necessary nutrients essential for consistent egg production, excellent fertility, hatchability and healthy day old chicks. Ideal for all types of breeding poultry.
Additional Information
Layers pellets or mash?
Pellets are the most common choice for back gardens and small free range egg producers. Pellets are less wasteful and flow well through most feeders.
Mash may be more palatable to some birds and can be useful for weaning pullets used to mash on to pellets by mixing the two. Our Novo Brown pullets have been fed on coarse grained layers mash from 16 weeks old to point of sale.
Feeding Guide
Offer on an ad-lib basis from point of lay. Layers feeds do not require any additional limestone or oyster shell grit. The diet is fully balanced for optimum egg production, consistent shell quality, good yolk colour and excellent egg size.
Hybrids need encouraging to eat layers pellets or mash. The best way to do this is to feed them every morning giving them just one days feed (about 130 grams per bird). When you feed them the following day there should be just a little feed left in the feeder. If it is still half full you are giving them too much. If it is pecked clean you are not giving them enough. Chickens like the interaction of being fed and like to see new feed appear. If a hopper is always full no new feed will appear and they will get bored with it. Feed intake may be reduced which will result in poor production. On commercial farms birds are fed small amounts several times a day to encourage them to eat enough layers feed. If you are giving birds mixed corn or other treats give it to them in the afternoon or evening so as to allow time for them to eat the desired amount of layers feed.
There will be no harm done if birds are occasionally given several days feed in a hopper when going away for a few days. Someone should look in on birds daily to make sure there are no problems.
Hybrids such as Novo Brown require high levels of protein (at least 15% of their total intake). They also have a limited appetite so it is important that they mainly eat a quality layers feed. Ideally they should be encouraged to eat layers pellets or layers mash and nothing else. Mixed corn can be fed as a supplement usually by scattering a few handfuls on an area of dry ground to encourage their natural behaviour. It is not advisable to feed hybrids vegetables, kitchen scraps or bread as they will tend to eat less layers pellets and not get the necessary protein intake. This can result in small egg size, reduced egg production and birds may stop laying completely. DO NOT FEED CHICKENS GRASS CUTTINGS, apart from having very little protein it can go sour in their crop and stop them from eating at all.
Store feed in a cool dry place.
Fresh, clean water should be available to the birds at all times.