The Cheshire Chicken Coop
The Cheshire Chicken Coop is designed, manufactured and marketed by ourselves in response to the poor quality impractical budget coops that are currently flooding the market.
We have gone to great lengths to produce a durable robust coop that is practical to use while meeting the needs of laying chickens. – That was a big enough challenge on its own but then we had to find a way of manufacturing it at a price that would be competitive with the cheap imports. After three years of design, material sourcing and setup of the manufacturing process we are confident we have achieved all our aims. The first coops have been in use for over five years and we are delighted with their performance.
Introductory offer continues. - We are offering the coop, with or without the run, fully assembled and including three point of lay chickens in the price. The coop/run can be broken down to a flat pack if required (see dimensions).
Coop With Run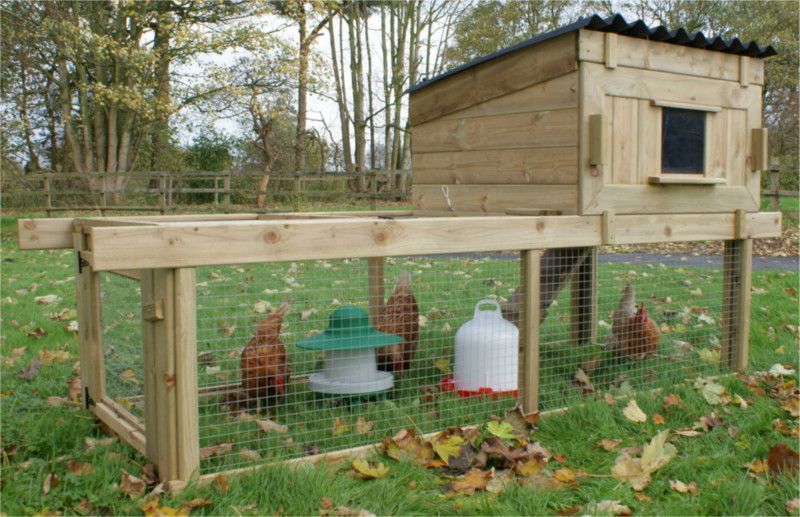 £209 inc VAT. OUT OF STOCK - will update when available .
Includes 3 chickens
Collect fully assembled
Coop With Legs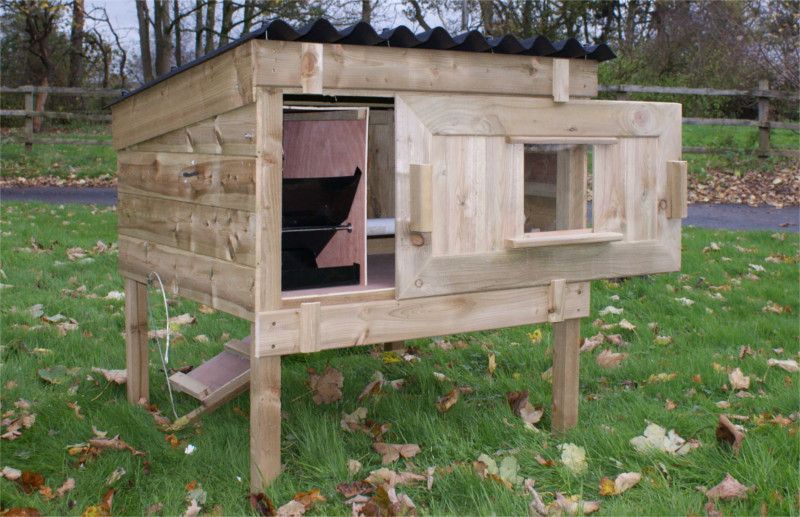 £138 inc VAT. OUT OF STOCK - will update when available.
Includes 3 chickens
Collect fully assembled
Fully pressure treated timber
Removable plastic perch
Removable rollaway nest box
Full access for easy cleaning
Solid heavy duty roof
Fully assembled
Can be flat packed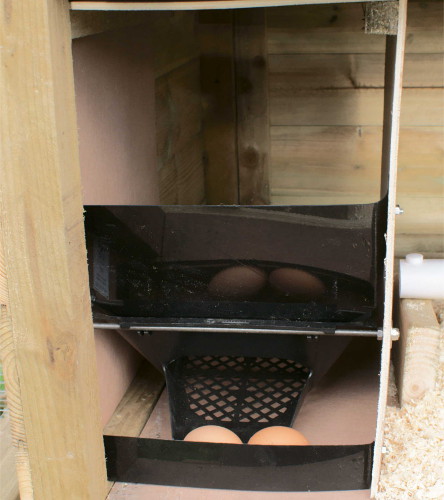 Rollaway nest box keeps eggs clean and prevents egg pecking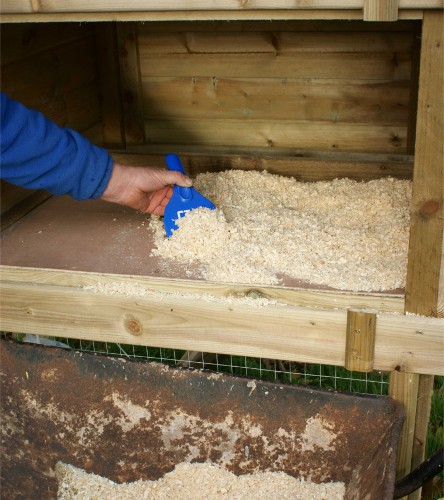 Full access to floor at a convenient height - can be cleaned straight in to a wheelbarrow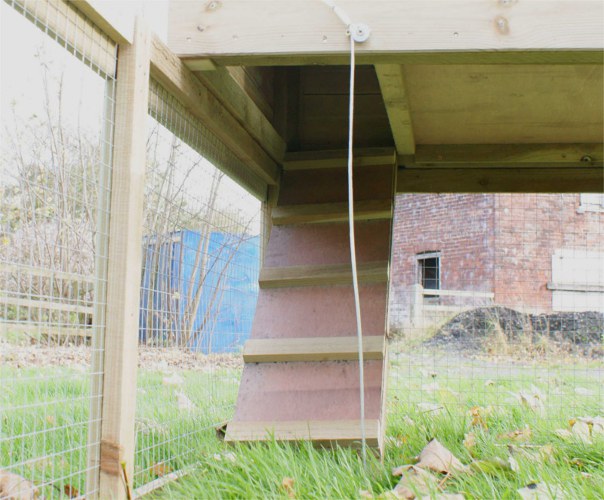 Ramp can be closed to keep chickens secure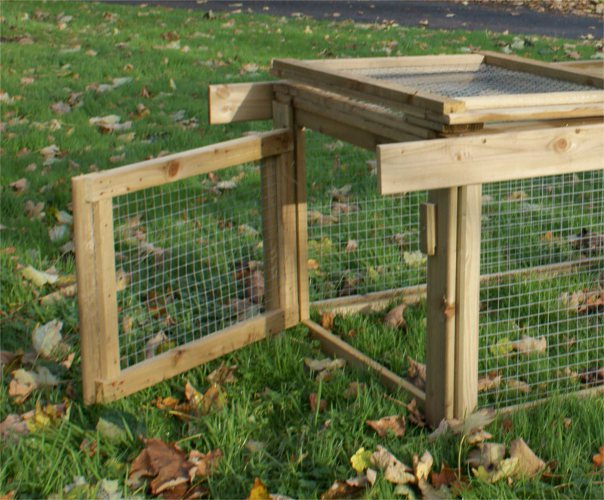 Access gate to let chickens out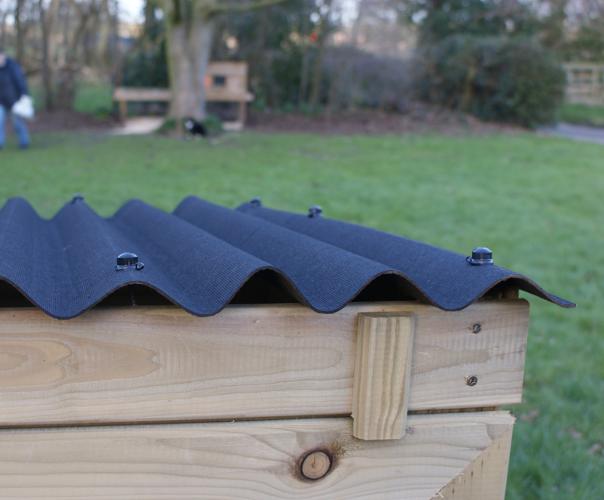 Solid heavy duty roof - no layers for mite to get between
Description and Instructions for Use
Both the "Coop with Run" and the "Coop with legs" will include 3 point of lay Novo Brown chickens and will be fully assembled. Both coops can be disassembled partially or to flat pack for transportation if required (see dimensions). If you are collecting the coop the overall dimensions are indicated below. The internal dimensions will be a little less.
Construction
All timbers are FSC Certified and are fully pressure treated. All external cladding boards and rails are to a planed finish and don't require further treating or annual maintenance. The timber will accept wood stains or preservatives should you wish to do so. The roof is a one piece solid corrugated Reinforced bitumen sheet with no layers for mite to get between.
Accommodation
Both coops are suitable for up to 4 chickens with the recommended floor, perching and nest box area. The roll-away nest box will keep the eggs clean and has a baffle to prevent chickens from pecking and eating their own eggs. The perch and nest box can easily be removed to allow full access for cleaning. The ramp can easily be raised and latched from the front ensuring security at night. The front panel has a window to allow light in when the birds are shut up. The run is of adequate area for the birds to be kept safe when it is not appropriate to let them roam free. Free range birds should be given access to larger areas whenever this is possible, there is an end gate to allow the birds out.
Positioning the coop
Position the coop in a sheltered area adjacent to walls, fences or trees. If the coop is to remain static we highly recommend putting it on a hard standing such as concrete or flags. A layer of bark chippings or wood chip on the hard standing will make it much easier to clean and give the chickens something to scratch around in. The coops can easily be lifted and carried by 2 people and allows access to the hard standing when it needs cleaning.
The coop will need to be moved regularly if it is on grass. In dry summer weather this will be about every 3 to 5 weeks but in wet winter weather will be once or twice a week. The run area will get soiled very quickly if birds are kept permanently in the run. A Ground Sanitizer will help preserve the ground and keep it disease free.
Bedding and Nest Material
For most situations the best material for the bottom of the coop will be fine wood shavings. Fine wood shavings make an excellent natural litter that birds like to dust bathe in. Spread shavings over the floor of the coop 3 to 5 cm deep. As long as it stays dry and loose there is no need to change it regularly. If there is a build-up of droppings under the perch then just replace that area. If the bedding becomes damp or starts clogging together then it is time to change it. Wood chip is more durable if the floor gets damp quickly. Straw is an economical alternative but may be difficult to clean out once saturated with droppings.
Remove the nest box until birds are about to lay to prevent birds roosting in it and making a mess. Place barley straw in the nest boxes at the onset of lay to encourage them to lay in it and not on the floor. Once birds are used to laying in the nest there is no need to put straw in it, the birds will lay quite happily on the plastic nest.
Introducing Birds
When you get your birds home put them in the coop and let them find their way into the secure run if you have one. After a week or two, when they have settled in, you can let them wander around freely if you like but only if there is someone about. Obviously don't let them on to the road and don't let anything chase them. Be aware of foxes, I am asked to replace fox kills hundreds of times each year, it is by far the most common problem. New birds will perform better and have fewer problems if they are kept separate from existing flocks. Thoroughly clean out and disinfect existing coops before introducing new birds. If possible the new flock should be given access to rested ground that hasn't had birds on for at least six weeks. With smaller flocks it may not be practical to keep new birds separate. Introducing new birds has varied results. Sometimes it is uneventful and they all get along fine in no time. Sometimes the existing matriarch will not tolerate newcomers even after days. Generally a new pecking order will have to be established. This usually involves strutting about, neck stretching, chest bashing and mock fighting ending with the new comers retreating to the far end of the run or coop. if the existing birds continue to hound the newcomers or it gets nasty then you will have to separate them. Introducing into the coop at dusk often helps letting them all wake up together in the morning. A temporary mesh divider in the run will allow them to get used to each other before they are mixed during the day.
Roosting tip: on the first night go in the coop at dusk and place any birds that aren't already there on the perches, after that they will usually go up themselves.
For further reading on keeping chickens see Keeping Novo Brown and Hybrids.
Delivery and Collection
Both the "coop and run" and the "coop with legs" will be available fully assembled for collection at no extra cost. Both coops can be disassembled partially or to flat pack for transportation if required – see dimensions below. Please notify if you require the coop to be dismantled as it is a different build.
Delivery Not available until further notice
When available There is a limited delivery service on the fully assembled coops using our own van and driver. This service is only available within 20 miles of our farm (WA169JF).
Cost: £5 + 80p per mile travelled (round trip).
For Example:
If you live 5 miles away the cost would be £13.
If you live 20 miles away the cost would be £37.
If you live more than 20 miles away we recommend you try to arrange your own collection, however it is worth giving us a ring. - If we have the time we may be able to oblige at the above rate.
The included chickens will be delivered at the same time as the coop. Extra chickens + any other items such as food, bedding, feeders and drinkers can be delivered without extra delivery charge at the same time as the coop.
Nationwide delivery of the fully assembled or flat coops is not be available. .
Collection
When collecting coops please ring to arrange a date and time.
Please note: If you are collecting and wish for the coop to be disassembled, we recommend that the person that is going to put it together again comes to collect. There are no assembly instructions as yet but you are welcome to watch the disassembly and ask questions!
Q: Can I arrange my own courier collection?
A: We don't recommend this as there are no assembly instructions as yet. Also the fully assembled coop is 2.5 meters long x 1 meter x 1 meter which would have prohibative courier deliver cost.
External Dimensions
| | |
| --- | --- |
| Roof | 1 x 1 m |
| Coop | 95 x 59 x 90 cm |
| Run | 250 x 64 x 92 cm |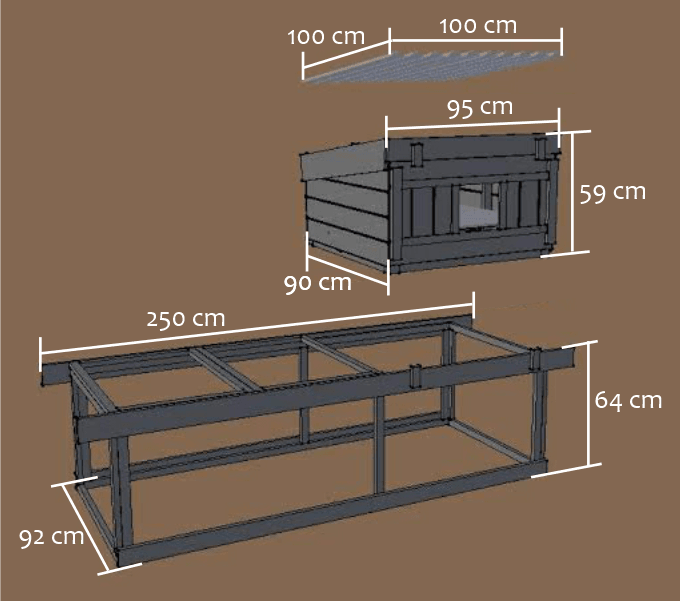 | | |
| --- | --- |
| Coop + roof height | 62 cm |
| Total height with run | 124 cm |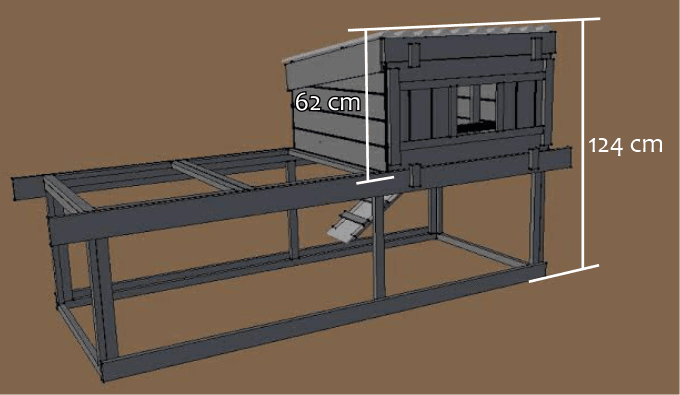 | | |
| --- | --- |
| Total height with legs | 105 cm |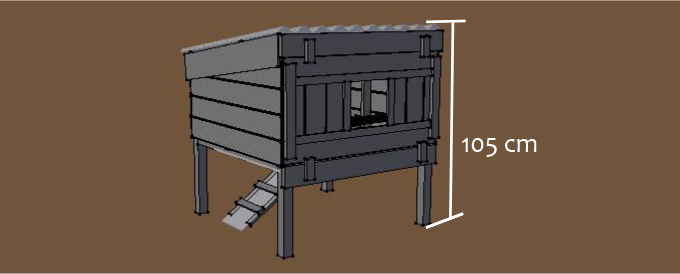 Can be flat packed: