1ltr - 12ltr Drinkers
BEC Chick/Bantam Drinkers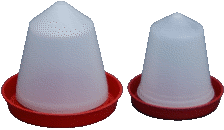 1 ltr

£2.43

(£2.92 inc VAT)

1.5 ltr

£2.42

(£2.90 inc VAT)

3 ltr

£2.62

(£3.14 inc VAT)
These drinkers are ideal for chicks from day old. They have a narrow trough that will prevent chicks from drowning. The 1 litre is suitable for up to 16 chicks where space in the brooding area is limited. The 1.5 litre is suitable for up to 25 chicks and the 3 litre up to 50. When chicks reach 1 week old they will need more or larger drinkers.
These drinkers are not adequate for mature poultry because of the narrow trough. The 3 litre has a slightly wider trough and would be suitable for bantams or birds of a similar size.
Eton Twistlock Drinkers
1.5 ltr

£2.39

(£2.87 inc VAT)

3 ltr

£3.55

(£4.26 inc VAT)
The Eton Twistlocks are budget drinkers with a small footprint. They are ideal for young poultry from 1 week onwards. The 3 litre hangs reasonably well but the 1.5 litre is better placed on something when more height is needed. They can be used for 2 to 4 mature birds where space is at a premium.
Eton Orange and White Ball Drinker - 1.3ltr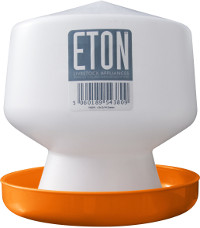 £1.25 (£1.50 inc VAT)
A robust little drinker ideal for young poultry from 1 week onwards.
Eton Trent Drinker - 6ltr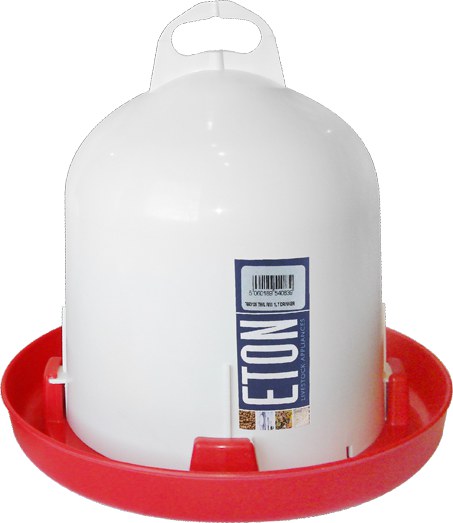 £14.90 (£17.88 inc VAT)
Robust plastic drinker
Traditional cylinder design
Easy to clean
Hang or stand
The Trent is our most popular drinker. It is similar to the traditional galvanised drinker. It is very easy to fill - just lift off the top, fill and replace top - no need to turn upside down. A light twist will lock on the top allowing it to be carried or hung. Suitable for 3 to 12 hens.
Combo Drinkers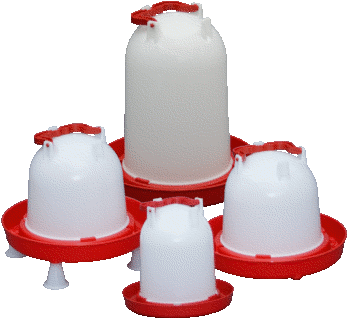 6 ltr

£6.57

(£7.88 inc VAT)

12 ltr

£10.90

(£13.08 inc VAT)
All Combo drinkers can be hung.
6 and 12 litre have legs included.
Robust plastic drinker.
Easy to clean.
Galvanized Drinkers
0.5 gal hot dip galvanised out of stock. Only available as pre galvanised

£18.14

(£21.77 inc VAT)

10 Ltr

£40
10 Ltr only:-
Hot dip galvanised traditional drinker
Double skin
Very robust
10 year guaratee
Top fill
Tripod Drinkers
ETON Tripod Drinker Blue and White - 20ltr/30ltr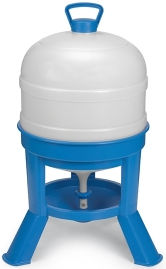 £22.95 (£27.54 inc VAT)
A robust, durable top-fill hopper on a very sturdy plastic tripod base and bowl with an easy to operate durable valve - no key to loose.
Suitable for all mature chickens, ducks, game birds and turkeys. For up to 50 chickens but often used for smaller flocks where the water needs to last longer between fillings.
Can be filled with hose pipe without having to remove from stand.
Wathermaster 2E

£12.98 (£15.58 inc VAT)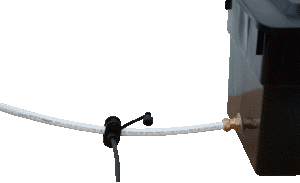 Automatic drinker complete with hanging cord, tubing and saddle connector to water pipe. Tank and white pipe not included.
Spares Available

Tanks - 18ltr
Header Tank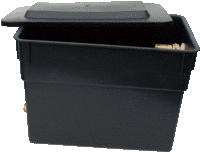 £19.00 (£22.80 inc VAT)
18 litre header tank for use with Watermaster 2E, complete with lid, ball valve and 15 mm outlet.
Spares, fittings and 15mm pipe suitable for saddle clamps available.
Tandem Tank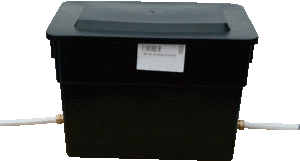 £14.00 (£16.80 inc VAT)
18 litre tandem tank for extra storage capacity, complete with lid, 15 mm outlet and inlet.
Tank with Lid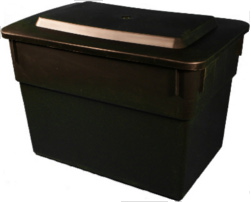 £12.00 (£14.00 inc VAT)
Professional Hose and Fittings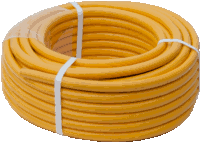 Heavy duty kink resistant hose
15m hose

£8.25

(£9.90 inc VAT)

30m hose

£15.75

(£18.90 inc VAT)
Tap connector

75p

(90p inc VAT)

Tap connector with ½" adapter

£1.25

(£1.50 inc VAT)

Female hose connector

£1.25

(£1.50 inc VAT)

House coupling

£1.17

(£1.40 inc VAT)

Tank connector 15mm

£2.90

(£3.48 inc VAT)

Insert for plastic pipe

42p

(50p inc VAT)
White pipe (1 meter)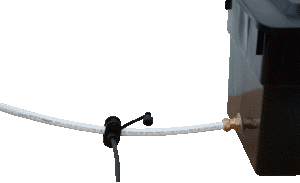 15mm heavy duty plastic water pipe suitable for saddle clamps
£1.40 (£1.68 inc VAT)
Cistern Valve and Float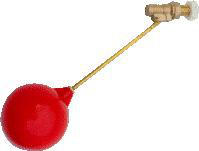 Cistern valve

£5.00

(£6.00 inc VAT)

Float

£1.00

(£1.20 inc VAT)
Drinker Heaters
Beat the Cold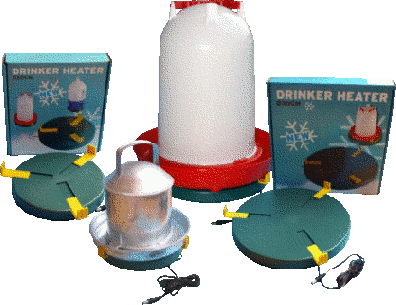 20cm

£19.80

(inc VAT)
30cm

£28.80

(inc VAT)
Avoid frozen drinkers
Safe low voltage via plug in adapter (24 VDC, only 12 watt)
Adjustable brackets to fit any drinker
2.2m cable
Drinkers not included