Nutrition
Nutri-Peck Block - 250g

Nutritious pecking block to provide interest and prevent boredom. Can be used as a distraction to prevent feather pecking.
Nettex Mineral Boost/Eggshell support - 450g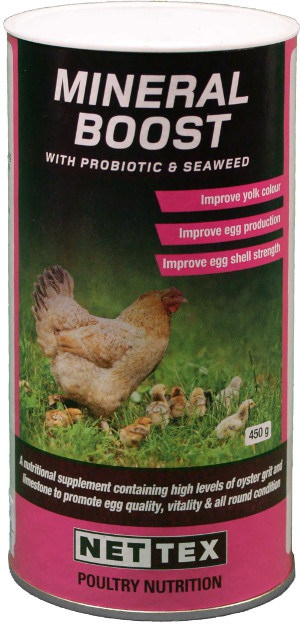 £6.90
A complete nutritional diet for laying hens resulting in faster moults, good egg quality and healthier, stronger birds.
Contains high levels of limestone, oyster grit pro-biotics and seaweed.
The limestone and oyster grit increase calcium consumption for strong and sturdy egg shells.
Phosphorous is added to help the birds metabolize calcium.
Pro-biotics (Saccharomyces cerevisiae) are high in quality proteins and contain a wide ratio of amino acids and B vitamins that stimulate extra immune protection to improve all round condition and performance.
Seaweed improves the quality of eggshell strength, improves yolk colour and increases egg numbers as well as improving feed conversion and absorption of nutrients (seaweed is rich in Vitamins A, D and Iodine).
Nettex Vit Boost +/ Country Living Vital Vits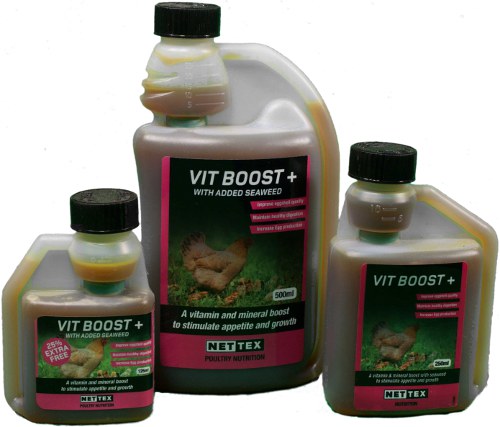 A vitamin and mineral boost to stimulate appetite and growth
| | |
| --- | --- |
| 125ml OUT OF STOCK | £3.63 |
| 250ml Vital Vits | £7.90 |
| 1Ltr Vital vits | £14.90 |
Provides the essential vitamins and minerals for optimum feed conversion and growth.
Helps stimulate appetite and improve nutrient absorption during periods of nutritional imbalance.
Helps maintain peak egg production and improve yolk colour.
Boosts the immune system and aids in stress recovery.
Provides an anti-microbial action to help maintain a healthy and effective digestive function.
Increases and improves the quality of eggshell strength and lay.
Nettex Poultry Nutri-Drops/Poultry Power - 30ml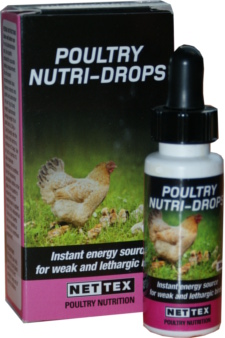 Instant energy source for weak and lethargic birds
£11.90
Provides an instant energy source for sick, weak, lethargic or sluggish birds (results visible in just 30 minutes).
Helps boost the immune system and vitamin levels during periods of environmental stress e.g. when food intake is depressed at high temperatures.
Helps maintain peak egg production at times when maximum stamina and energy are required.
Reduces the effects of stress during vaccination, handling and following antibiotic treatment when food absorption can be disrupted.
Increases appetite and increases feed conversion.
Aids in the preparation for onset of lay and disease recovery.
Nettex Poultry Seaweed - 400g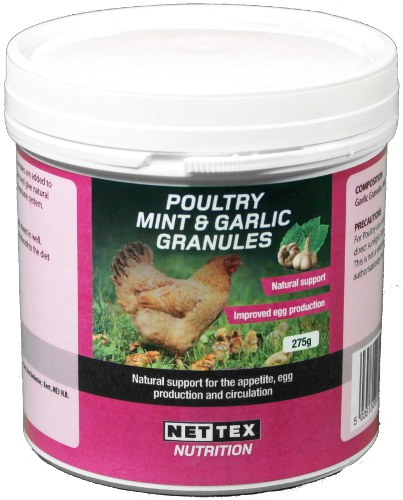 £5.90
Dried seaweed can be added to feed to provide natural support to Feathers and eggs and improve Egg Colour.
Poultry Spice/ Poultry PEP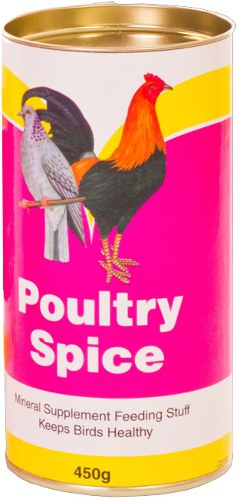 A mineral supplement for healthy birds
| | |
| --- | --- |
| Poultry PEP 500g | £5.90 |
| Poultry PEP 1.5kg | £10.90 |
Traditional mineral supplement for poultry, used to support all round condition and performance. The aromatic blend of highly palatable spices will encourage them to eat their ration and keep strong and healthy. The high mineral content promotes good egg shell quality. Invaluable to help birds get over moulting and to keep condition during winter weather.
Internal Health
Breath 'n' Thrive - 250ml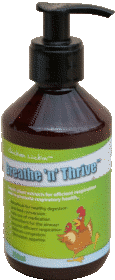 £OUT OF STOCK
Liquid plant extracts for efficient respiration and to promote respiratory health.
Beneficial for healthy digestion and feed conversion
Less use of medication
Ensures efficient respiration
Relieves congestion
Stimulates appetite
Verm-X
Verm-X Liquid 250ml

£14.38
Verm-X Pellets 250g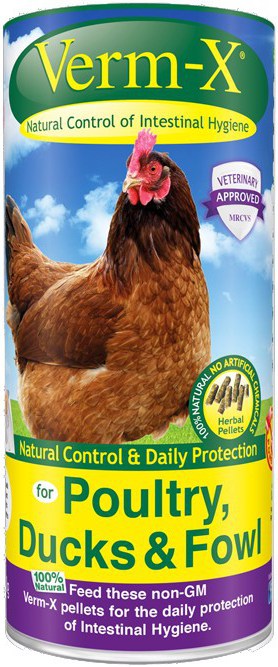 £9.95
Verm-X liquid and pellets are a natural control for intestinal hygiene and parasites such as intestinal worms.
Apple Cider Vinegar
Nutrimin Cider Vinegar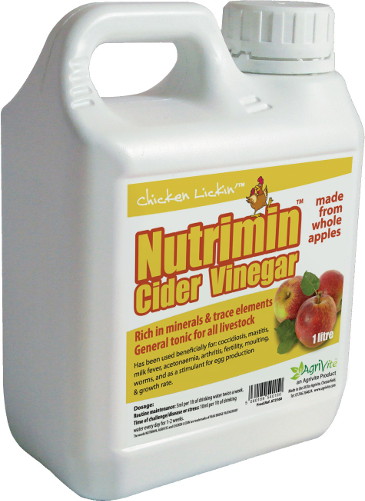 Nutrimin Cider Apple
Vinegar and Garlic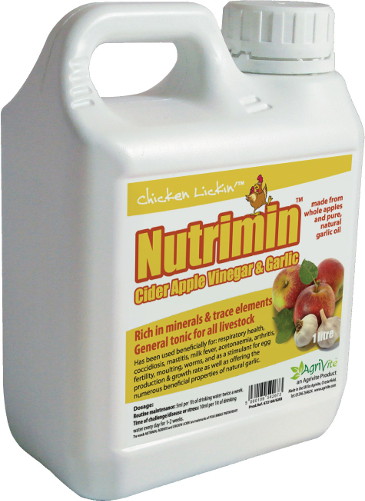 Raw cider apple vinegar has been used by poultry keepers for generations to support optimal well-being and health.
Nettex Herbal Gut Conditioner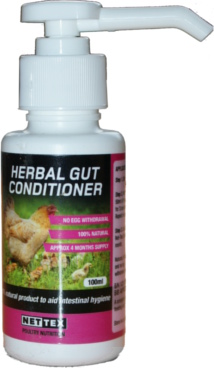 | | |
| --- | --- |
| 100ml | OUT OF STOCK |
| 250ml | OUT OF STOCK |
A 100% natural formulation to help support gut hygiene and the digestive system.
Herbal gut conditioner contains:
Allium sativum: a natural disinfectant to maintain a fresh and healthy gut.
Syzygium aromaticum: to support healthy bowel function and movement.
Juglans nigra: a natural cleanser of the lower intestinal tract.
Artemisia absinthium: an extract of wormwood.
Mite Control
Smite Mite Powder and Spray
Smite Organic DE Powder
350g

£5.90

(£7.08 inc VAT)

1kg

£7.90

(£9.48 inc VAT)

5kg

£17.67

(£21.20 inc VAT)
Organic mineral powder effective against all lice, mites and crawling insects. Safe in poultry feeding areas and can be used in and around housing, nest areas and on the birds.
Smite Ready to Use Spray - 750ml

£3.55 (£4.26 inc VAT)
Exceedingly effective disinfectant cleaner. Removes organic matter, waxy deposits and micro-organisms. Pleasant low odour. Use alone or in conjunction with Smite Organic powder.
Smite RTU + 350g Powder
Nettex Total Mite Kill Concentrate
500ml

£10.90

(£13.08 inc VAT)

2ltr

£31.70

(£38.04 inc VAT)
A fast working insecticide with rapid knockdown and multipurpose cleaner that:
Kills mites, fleas, lice and other flying and crawling insects.
Cleans & disinfects housing
Kills bacteria, virus, yeast and fungi (i.e. E. coli, Salmonella, Listeria and Ps Aeruginosa)
Penetrates deep into cracks, crevices and corners which parasites commonly use as harbourages
Nettex Total Mite Kill Ready to Use - 750 ml/ 2 ltr

750ml

£8.79

(£10.55 inc VAT)

2ltr

£18.90

(£22.68 inc VAT)
The number 1 selling mite kill product with the same active ingredients as the concentrate but already diluted back for instant use. Ideal for the smallholder, hobby breeder and back garden chicken house.
Nettex Scaly Leg Remover - 250ml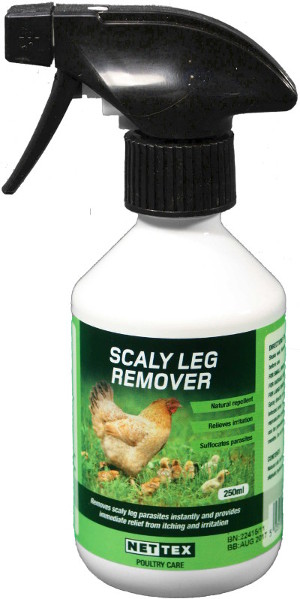 £7.30 (8.76. inc VAT)
Designed to kill and effectively control the Scaly Leg parasite in one simple spray application. Simply spray directly on the leg, feet, comb and wattles to treat the infested areas. Repeat every 5-6 days (to break the egg cycle) until the infestation has gone.
Nettex Louse Powder - 350g

£4.39 (£5.27 inc VAT)
Buz Busters Louse powder has been formulated to be especially effective against lice and fleas but will also kill most crawling and flying insects such as silverfish, beetles, ants and wasps.
For use on hard porous and non-porous surfaces, soft furnishings, pet bedding, skirting boards, inside door frames, animal houses and sheds.
Nettex Anti-Feather Pecking Spray - 250ml - OUT OF STOCK
Barrier Anti-Feather Pecking Spray - 400ml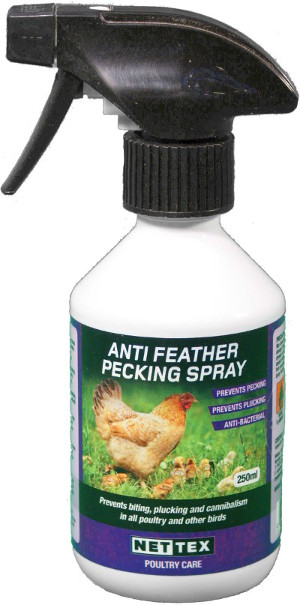 £9.50 (£11.40 inc VAT)
Anti-Feather Pecking Spray works firstly by preventing biting, plucking and cannibalism occurring as it contains a foul tasting substance with a very strong odour. The foul tasting substance is so strong most biting or plucking will cease after 1 or 2 days.
Anti-bacterial agents have been incorporated for minor skin abrasions and will disinfect the afflicted sites immediately. These agents will also help to minimise bacterial infection spreading allowing commencement of the healing process.
Nettex Wound Spray - 200ml

£5.50 (£6.60 inc VAT)
An easy to use wound aerosol spray that is a highly effective cleaner with a powerful bactericidal action. This quick acting and powerful wound spray has been specifically designed to prevent infection in external wounds, grazes or skin punctures requiring immediate attention.
Simply spray over affected area. When applied it leaves a violet residue to show the affected area has been covered.