The Chickbox offers an improved module nest box rather than a fabricated wooden alternative. It will save hundreds of hours cleaning over the life of the poultry shed. More importantly, it is a massive step forward when managing red mite, disease and bacteria within the important nesting area, and the laying hens love them.
They are supplied with rollout nesting bottoms and an opaque lid to cover the collection tray. The big advantage is that the eggs will automatically rollout into the collection tray on the outside where they are easily visible. This saves stressing the hens, and time, and will keep the eggs clean and away from any pecking. The perch and plastic nest are easily removed and cleaned.
Several boxes can be linked together to provide a multi-box module to service larger flocks. One nest is recommended for every four hens in small flocks. In larger flocks allow a minimum of one nest to every eight birds.
Chickbox nest boxes are ideal for converting garden sheds and playhouses.
Inside rollaway Nest Box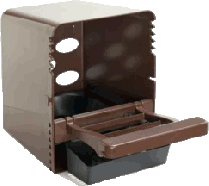 Includes rollaway tray and flap
OUT OF STOCK.
Rollaway Tray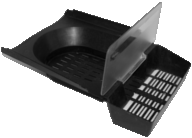 Great for incorporating into homemade nest boxes.
Rollaway tray

£5.87

(£7.05 inc VAT)

Flap for tray

£2.20

(£2.64 inc VAT)
Yorkshire Ranger Nest
1-9

£3.20

(£3.84 inc VAT)

10+

£2.75

(£3.30 inc VAT)
A rollaway nest insert that fits many commercial and hobby nest boxes and is the one we use in our own coops. This nest can be used in homemade boxes by clipping it on to a 6mm rod at the front and back of the nest.
Additional Information
It is best to fit nest boxes prior to birds being introduced into the coop or before the onset of lay. Once a bird decides on its preferred nesting site it will be reluctant to change. Initially it will help to put a little straw or hay in the nests to encourage the choice of nesting site. Once birds have established the boxes as their laying site there is no need to put any nesting material in the box, the birds will lay happily in the plastic nest. Don't be surprised if all the birds lay in the same box, the overwhelming influence on birds choosing a laying site is warmth, the more birds lay in the same box the warmer it gets.